Design-Build Chiller Upgrade: $171k Rebate and $84k Annual Energy Savings for Client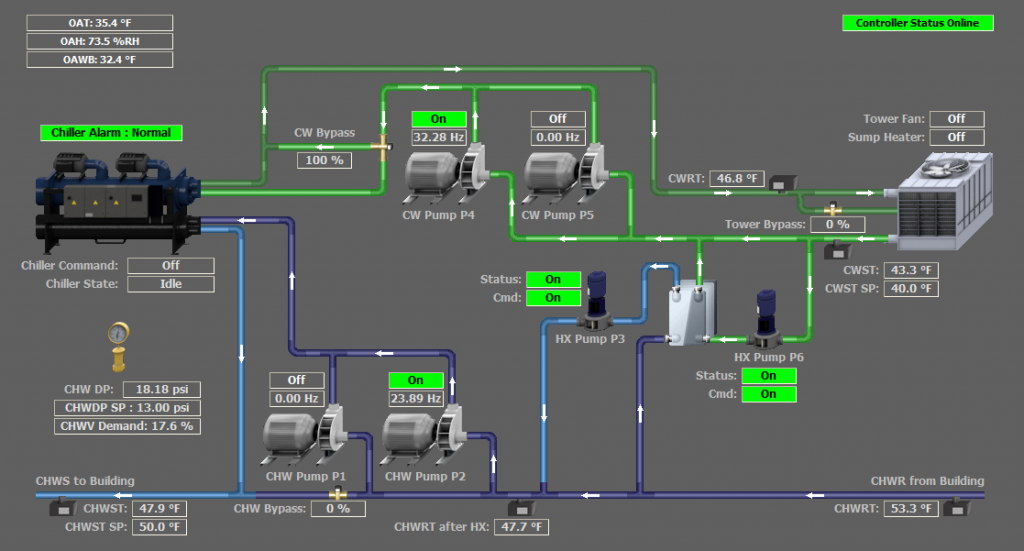 Project Summary:
BAS was recently involved in the energy analysis, design, and install of a chilled water plant system replacement, including upgrades to the corresponding digital control system. The project was awarded a $171,000 rebate and is estimated to save over $84,000 in annual electric and gas savings, with an 11% return on investment. The project is estimated to conserve 395,100 kWh and 19,900 therms annually.
Project Approach:
BAS provided design-build services that included:
MEP Design: Engineering study and design of chiller system including equipment selections, electrical upgrades, sequence of control, and energy savings estimates.
Electrical Retrofit: Upgrade of existing electrical services to meet chiller and system power requirements.
Mechanical Installation: Installation of a new 250 ton chiller, piping, valves, pumps, VFDs, and free -cooling heat exchanger.
Controls Installation: Installation and wiring of Johnson Controls FX digital control system.
BMS Integration and Programming: Program new DDC controls for the cooling tower, AHUs, MUA, pumps, valves and integrate chiller factory controller.
System Start Up and Commissioning
Energy Validation and Rebate Acquisition: BAS worked with the customer's utility providers throughout the life of the project to secure a rebate and validate energy savings.
Problem & Baseline:
The facility is a 3-floor, 80,000 ft² building that was constructed in 1989. The primary use of the facility is as office space for tenants. The building is approximately 60% core spaces, and as a result requires cooling year round.
The air distribution system is a constant air volume multi-zone hot-deck cold-deck system. Each floor is served by two air handling units with plenum return. The air handling units receive no outside air directly; instead, a dedicated make-up air unit in the penthouse provides outside air to the AHU plenum.
Chilled water was provided by two R-11 water-cooled chillers (with centrifugal compressors 250 tons total). The existing chillers were at the end of their useful life and needed to be replaced. The AHU units operated 24/7 without a schedule and all existing mechanical equipment used pneumatic controls. Prior to project start, some tenants had brought up complaints about comfort.
Proposed Solution:

The proposed alternative was to reconfigure the chilled water plant with a 250 ton high-efficiency water-cooled centrifugal chiller, capable of utilizing free-cooling at the cooling tower. New DDC controls would provide chilled water reset and tower reset to improve chiller performance. The chilled water system included two 25 horsepower chilled water pumps with VFDs, and two 15 horsepower condenser water pumps with VFDs.
The proposed chilled water heat exchanger system would allow the cooling tower to provide free cooling when ambient conditions allow. The heat exchanger would have two 3 horsepower pumps that operate constantly during free-cooling operation. The free cooling system would eliminate year-round chiller operation previously required to keep core spaces comfortable.
Under the proposal, all HVAC equipment in the building would be controlled via JCI FX controls, allowing for proper equipment scheduling, load resets, temperature setbacks, alarming, remote monitoring, and a better user interface for operators. All pneumatic controls were to be removed from the building.
Results:
The project yielded many positive benefits for the customer:
$171,000 rebate from utility providers.
$84,000 annual energy savings.
11% ROI
Reduced carbon emissions by 384 metric tons per year. [1]
Single point of contact for project design, install, and energy incentive acquisition.
[1] Calculated from EPA Greenhouse Gas Equivalencies Calculator